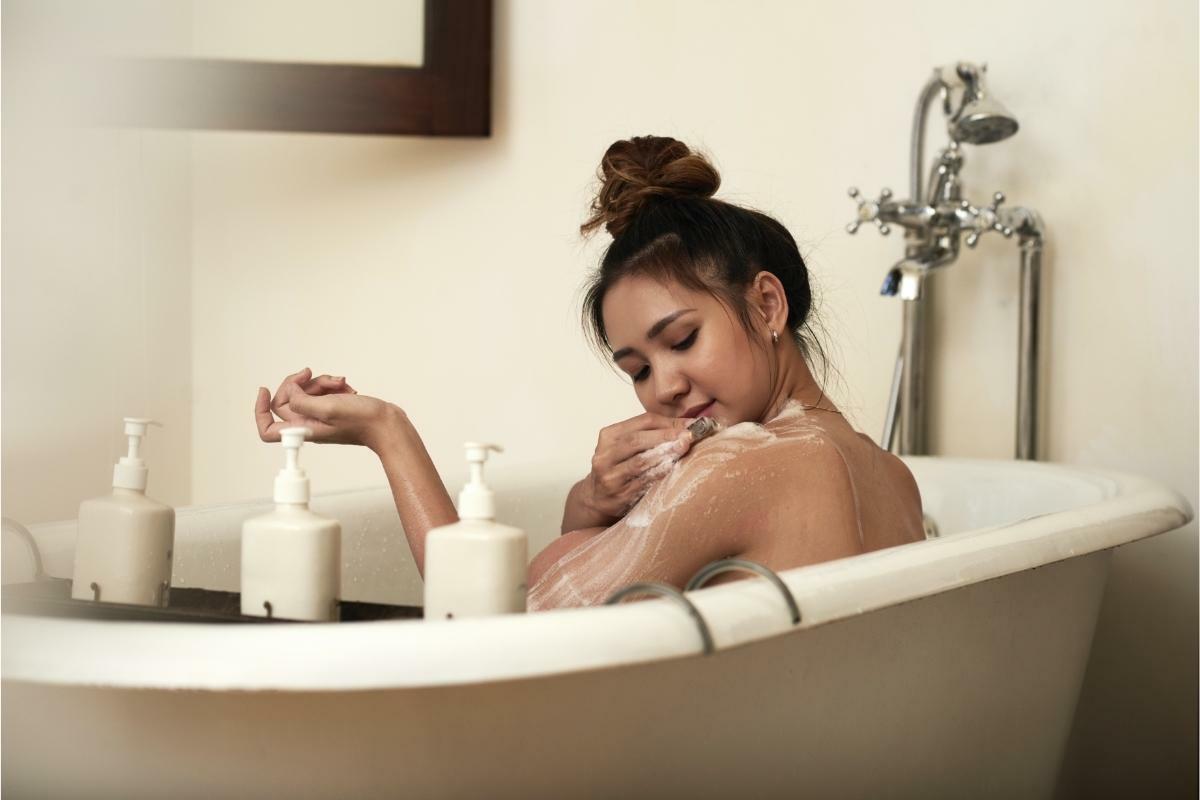 Scroll Down for English
平時工作日忙夜忙就好容易忽略了自己(Self-care)。每當我們心情低落或感到疲憊後,心靈和身體便會向我們發出呼喊。在這個時候大多想去水療中心做SPA放鬆一下然後重新出發,可惜由於疫情關係,想外出做SPA慰勞自己的機會都沒有了。其實你大可以在家裡舒適地享受一個寧靜和私人的水療美容日。
如何好好在家裡享受一天的水療美容?首先要問自己什麼讓你感覺像個女王,你需要什麼?然後根據這些來計劃,一個真正為自己度身訂造與自己聯繫享受me time的好機會,就像與你自己約會一樣。
首先穿上柔軟的浴袍和拖鞋 – 夏天穿竹子或絲綢,冬天穿棉布。然後為自己準備一個溫水浴:加入浴鹽幫助放鬆肌肉;放一個有香味的浴球或加入一些精油,如薰衣草、乳香和雪松等,同時播放一些輕柔的音樂,並點燃一個香薰蠟燭:洋甘菊和迷迭香讓你放鬆;玫瑰和依蘭花增加你的吸引力,而薄荷和柑橘使你感到精力充沛。浸浴時更可為自己預備一杯葡萄酒或花草茶,好令自己完全放鬆讓浴室暫時成為你的小型避難所。(在香港,很多人家裡可能沒有浴缸,小編建議你可以購買那種可擴展及移動的迷你浴缸放在你的浴室裡。當你不使用時,可以把它摺起存放。)
浸浴後,塗抹身體乳液時,可搭配按摩手法,如按壓小腿,減緩肌肉緊繃,按摩胸部、手臂等,不僅可以促進血液循環,也能透過這個按摩儀式感讓身心靈一同放鬆。
Self-care當然唔少得竉愛自己的臉,浸浴後大約30分鐘敷上自己喜愛的面膜、眼膜,此時擴張的毛孔及充分水潤的肌底更有利於面膜保濕精華的肌收,效果更好。
在家裡可以為自己做一個簡單的修手甲和腳甲。首先用洗甲水卸去固有的指甲油,然後剪指甲、銼指甲,接著進行角質層護理。如果你沒有洗澡,那麼便可以浸一個足浴,並進行足部按摩。最後,可以依照今天的心情塗上喜歡的甲油。
想要一個完全放鬆,不受干擾的me time請確保遠離手機,不要被電郵、訊息或社交媒體分心。而是換成閱讀一本書,好讓自己暫時逃離現實生活中的壓力;放鬆心情為自己充一充電。
MindBeauty為你提供各類型家用水療美容產品,不妨參考一下。
🛒https://www.mindbeautyhk-store.com
Spa Date Night For 1
The embodiment of self-care is something we seldom do when we are constantly on the go. But every so often, our bodies and minds scream out to us after feeling run down. So, we decide to book a spa day to reset. Unfortunately, due to covid, it's not possible for everyone to do this. The great news is that you can have your own spa day within the comfort of your own home, and it's cheaper.
Now how do you accomplish this at home? Well, it's simple. Start with asking yourself what makes you feel like a queen and what you need, then based off that to plan. Your spa day should be all about you and a great opportunity to connect with yourself and focus on you, just like going on a date with yourself.
Start with slipping into a soft robe and slippers, wear bamboo or silk for summer, and cotton for winter. Then make yourself a nice warm bath. Place some Epsom salt to help relax your muscles, place a scented bath bomb, put some essential oils like lavender, frankincense, and cedarwood. Get creative and make this your mini sanctuary. Put some soft music on in the background, light a candle of your scent of the day: chamomile and rosemary to relax, rose and ylang ylang to feel attractive or mint and citrus to feel energized. Also, maybe pour yourself a glass of wine or a cup of herbal tea. In Hong Kong, many of us may not have a bathtub at home, however you can purchase one of those mini expandable and portable bathtubs that can fit into your shower and keep them in your storage or closet when you don't use them.
About 30 minutes after the soak, put on a face mask. Grab your most premium sheet mask as this is the best time to pamper yourself. No paper masks? Not a problem. Apply any mask of your liking then you can rinse it off afterward. You may want to apply some under eye masks too! If you put yours in the fridge, it can decrease inflammation and the cooling sensation is enjoyable. As you put your lotion on after you shower, think about consciously massing your arms, legs, and feet. Imagine doing this out of giving love to yourself.
Simple manicure and pedicure are perfectly doable at home. Remove excess nail polish you may have with nail polish remover, then clipping and filing your nails, followed by cuticle care. If you skipped the bath, then you can do a nice foot soak instead, with a foot massage. Then go about painting your toenails if you feel like giving them a bit of color.
During the whole process, you would like to make sure you stay away from your phone but switch to read a book instead. No distractions, no work emails, no text messages, or social media. We cannot be truly reset and recharge with technology in our head and hands. If you don't live by yourself, tell your family or flat mates in advance that you would need this time not to be disrupted. This home spa ritual should be an uninterrupted, precious time with yourself, just like how you pay for a treatment at the spa.
There are so many different products out there for an at home spa day, and here at MindBeauty we have created a list of suggestions for your consideration.
🛒https://www.mindbeautyhk-store.com/en/